You Did WHAT With my T-Shirts?
February 18, 2016
Can You Believe THIS is What Some Folks Consider a T-Shirt QUILT???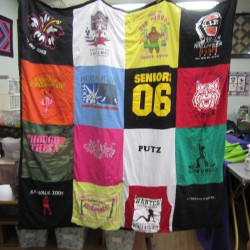 One of those other 'blankets'.
There are a lot of folks out there making T-Shirt Quilts. Or rather, should I say t-shirt comforters or blankets. There is a new company out there professing to be the 'cheapest' on the web. I have had several of those 'cheap' blankets come to my shop with either the mom in tears because the t-shirts were ruined, or the recipient in tears because the 'blanket' was awful.... Whatever the issue, you just know that this 'blanket' was done poorly, and you know it will never be used or displayed in public.
Is there any hope?
We have reconstructed many quilts that were a big disappointment made by other non-professionals. While this is not our main business, we do understand that sinking feeling when getting a horrible quilt/blanket/comforter.
Generally, these are the styles of quilts/blankets/comforters.
Professionally Machine Quilted - This is a professionally quilt edge to edge pattern that evenly covers the quilt without distracting from the t-shirts. The stitches are consistent and the pattern is consistent across the quilt
No quilting at all - The quilts from Project Repat boast that they are the cheapest, and there is a reason. They don't use batting, they don't quilt it, they don't stabilize the shirts, they don't bind the quilt, they don't use real fabric for the backing.
Minimal quilting - Non Professionals who are making quilts on their kitchen table, or doing some random loop de loops in a messy manner.
Scribble Quilting - This is what we refer to when inexperienced quilters 'scribble' on your quilt, thinking it is pretty. :(
Too much Quilting - How can that be? While well intentioned, too much quilting is just as distracting as not enough quilting. T-shirts that are quilted too densely (and especially those without a stabilizer) will end up with 'squoosed' quilting. That is a technical term for pleats and puckers. We are the only company that use 100% cotton stabilizer to prepare your shirts for a lifetime of use and wear. Most don't use any stabilizer or use a man made polyester material (such as Pellon or Thermoweb).
Tied - Oh my. this is what my great-grandmother used to do for utilitarian quilts. At least she put the ties a couple of inches apart where they might do some good. One quilt that I got in for a makeover had a total of 6 (as in SIX) ties to hold an entire quilt together.
Other - This is what we lovingly refer to as 'creative quilting' This is means that the maker used one or more methods of assembling a quilt. Sometimes we can't even figure out the method.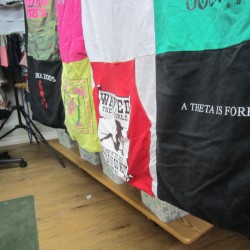 This is what happens when there is no quilting, or just quilting 'around' the blocks.
Can YOUR Quilt Get a Makeover?
Really, the easiest quilts to do a makeover are the ones that are tied or have the least amount of quilting. The 'non-professional' quilters make inconsistent size stitches and the pattern is all over the place. Send us a photo, and we can see what we can do.
What we can Fix
Your choice whether we re-piece the entire quilt, or leave it as is, and add a stabilizer, borders and new backing fabric. We use fabrics called 'Tone on Tones' which are great for hiding everyday wear such as pet hair and lint.
To learn more about having a quilt made from your tee shirts, download our free T-Shirt Quilt Buyer's Guide. Learn about what to look for when you are ordering a t-shirt quilt.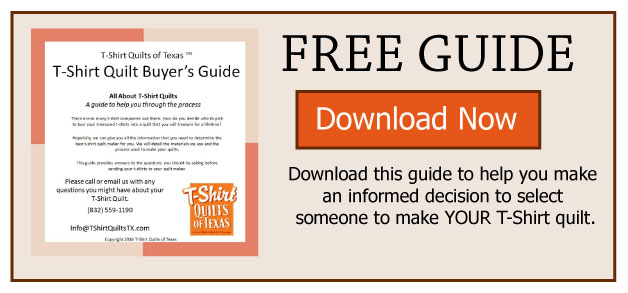 T-Shirt Quilts of Texas is a full service professional business that can help you complete your quilt at most any stage. We also 'fix' quilts made by non-professionals. If you get started, and don't feel you are going to be able to complete your quilt. Take pictures of your quilt in process, email it to us, and we can let you know if we can help you get it finished.