Why Would a T-Shirt Quilt Need to be Dry-Cleaned?
February 25, 2019
Why Does Anything Need to be Dry-Cleaned?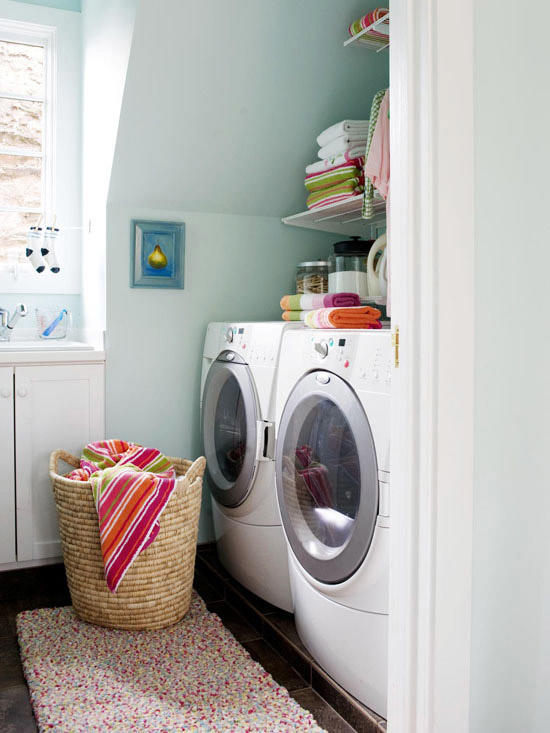 Couple of reasons:
Unknown fabric content
Silks, wools that have never been laundered
Clothing was always dry-cleaned, never laundered
Fabrics you think might shrink
What is Difference Between Dry-Cleaning and Laundering?
Dry Cleaning
The dry cleaning process uses solvents or chemicals to clean the clothes. It is "dry" because it doesn't use water, as in normal wet laundering. Most laundries use the chemical perchloroethylene (PERC) to remove grease and stains from clothing. The clothes are put into a machine and washed during the tumbling cycle. Then the solvents are removed, filtered and recycled. Next, the clothes are dried in the dry cleaning machine and removed for steaming and ironing to remove wrinkles. Dry cleaning has some advantages over normal laundering: It effectively gets rid of grease and oil stains better; reduces garment shrinkage; minimizes decolonization; and protects the original condition of clothing.*
Laundry or Wet Cleaning
The traditional wet laundry cleaning method involves using detergent in water with the clothing during the washing cycle. Sometimes a spot remover is sprayed on a stain before washing. The detergent removes the dirt during the agitation process. Then the water then removed from the clothes during the spin cycle. The clothes are dried either in a dryer or hung up to dry and afterwards steamed and pressed to remove the wrinkles. Wet laundry also has its benefits: it is cheaper as only water and detergent are used..*
So, if a fabric would shrink or bleed if washed with water, you would dry-clean it.
Why Would You Need to Dry-Clean Your Memory or T-Shirt Quilt?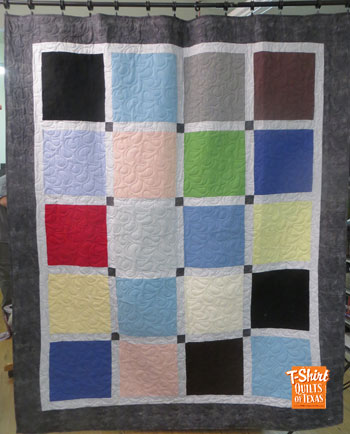 T-Shirt quilts only need to be dry-cleaned if the fabrics will shrink or the colors bleed if they are laundered in a washing machine. Since we only use high quality 100% cotton fabrics to make your quilt (and your t-shirts have probably been laundered a gazillion times; regular laundry should be fine). We always suggest that ALL clothing be laundered before making it into a quilt (especially memory quilts).
T-shirt quilts contain three types of material: T-shirt fabric, batting and backing fabric.
I must note that we did a quilt in 2017 (pictured right), where the customer provided 12 or her favorite CASHMERE wool sweaters. Since those sweaters had never been laundered, we suggested that they continue to take the finished quilt to the dry cleaners.
*Source: http://www.wellslaundry.com/difference-dry-cleaning-washing/
How Should I Wash My T-Shirt/Memory Quilt?
We recommend that any quilt (whether a tee shirt quilt or vintage quilt) be laundered in our TShirtQuiltsTX - QuiltWash. This is simply ORVUS paste. We just happen to repackage it in an 8 oz size, so that you don't have to buy the Gallon Jug size that you can find at most Feed Stores.
Use warm/tepid water, gentle cycle
Dry using a low heat or hang outside on clothesline.
For more on the Care of your T Shirt quilt click here.