Choosing Fabric Colors for Your T-Shirt Quilt
October 12, 2018
How to Choose Colors for YOUR T-Shirt Quilt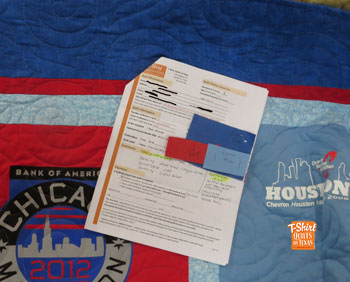 So, you've decided to have a quilt(s) made. You are filling out the order form and here I am asking for you to make more decisions! Yikes!....

It is OK. We get everything from "You decide, you are the professional", "Blue", or like my favorite customer.... she actually sends color swatches (Love you Renee!).

Quilt at left. Customer attaches color swatches.
Fabric choices we made based on her wishes.

Sending color swatches makes our job SO much easier. But, it is OK if you don't do that. Just keep in mind that 'blue' covers a wide range of color. Navy blue, royal blue, sky blue, teal blue or pastel blue. All are blue, but doesn't tell us much. If you are a fireman or policeman, and the shirts are all a navy blue or black, that is easy for us to decide.

We don't mind if you say "use the red in the Chicago Marathon shirt" or the "blue in the Houston marathon shirt". Tell us to use the colors of your sorority, fraternity or school colors. We can take it from there.
Don't Use This Color

On our order form we also ask what color to NOT use. This tells us a lot. It would be disastrous if we were to put maroon in a UT (Univ. of Texas - burnt orange) quilt or orange in an Aggie (Texas A& M - maroon) quilt. OK, we do a lot more Aggie quilts than UT quilts. Maybe red is the color of your opposing schools colors - or you just hate the color red, just let us know.
Photo right: Tone on Tone UT burnt orange fabric example
How Many Colors Do I need to Choose?
That depends. Just had a call today from someone who didn't know how many colors to choose.
Wide outer border - (which is included on ALL of our Traditional quilts).
Sashing - which is the fabric that goes around each shirt.
Accent Border - Optional one inch border that adds a pop of color.
Cornerstones - Those little squares that intersect between the shirts.
They can be:

Same color as the outer border
Same color as the accent border
Same color as the rest of the sashing (looks like there isn't any cornerstones).
another color entirely.

Backing - We offer both regular Tone on Tone 100% cotton fabrics or 100% Cotton flannel as choices for the backing. We don't use the cheap solid fabrics that show all the lint and pet hair that your KNOW is lurking in your home. This fabric can be the same or entirely different from the outer border on the front.
We always try to stock fabrics that are of special interest, like Texas, College fabrics (UT, TX A&M, LSU, Auburn), basketballs, baseballs, RealTree and so on. We are happy to special order your special interest fabric if we don't have it in stock. Recent special orders included guitar cats and Beatles fabric. Your quilt, your choice.